The Middle Fork Falls are formed where the Popo Agie River cascades over large rock outcrops as it drops into Sinks Canyon. The falls are actually a series of waterfalls and cascades, with the longest vertical fall about 60 feet high.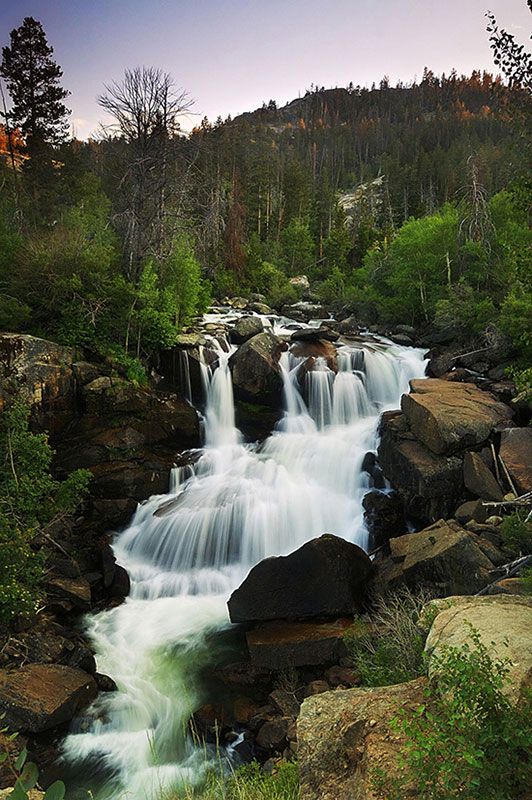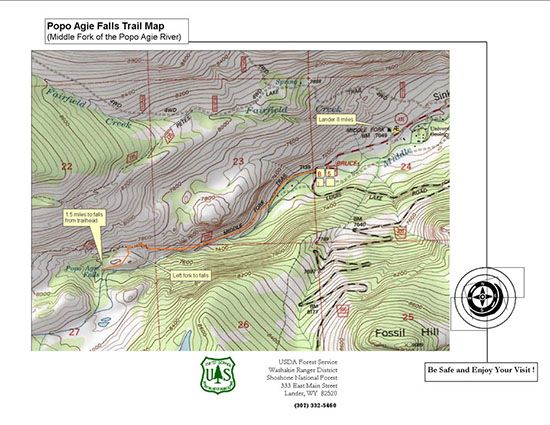 The hike from the trailhead to the falls is 1.5 miles (round trip of 3 miles). You can expect spectacular canyon, river and mountain views.
The first ¾ mile of the hike is easy, the second ¾ is moderate (rocky trail/elevation gain). The trail is rocky and narrow in places. You will gain over 660 feet of elevation over the course of the mile and a half hike. The elevation of the falls is 7800 feet.
You can access a map of the Falls Trail here in the Maps area of this website.
Wear sturdy shoes, take water, use sunscreen. In the summer afternoon thundershowers are common, so a rain jacket and hat might be a good idea.
Horse and bikes are allowed on the trail so watch for traffic.
The trail passes through some trees, but is mostly open. The river is near the trail most of the way.
The hike to the falls begins at Bruces Parking area on the Shoshone National Forest (3 miles up the road from the Sinks Canyon State Park Visitor Center). Park in the large lot on the left and take the footbridge across the river to the trailhead kiosk.
The Falls Trail is also the Middle Fork of the Popo Agie Trail, which continues on past the Falls into the Popo Agie Wilderness.