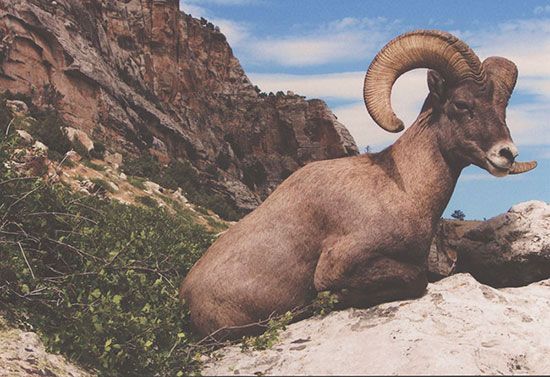 Bam Bam, the infamous Sinks Canyon Bighorn Sheep has died. Officials estimate he was about 12 years old. It is believed he died of natural causes.
Bam Bam became a local celebrity in the years 2007 through 2009 because he was so visible in the canyon. He was the last survivor of the Bighorn Sheep herd in Sinks Canyon, and was an almost constant presence around the public for two years. A video of him trying to butt a truck became a You-Tube sensation and was viewed by people around the world.
The ram earned the moniker Bam Bam after park officials discovered his penchant for butting vehicles. When he saw his reflection, Bam Bam tended to break taillights and mirrors on cars in the parking lot. "Pretty much every park vehicle and many of our personal vehicles had broken taillights or some pretty good dents in them," said Park Naturalist Randall Wise. "You could hear that sound of him thumping on a vehicle all the time. … You'd run out and of course, it'd be too late by then."
Sinks Canyon Park officials tried to keep him away from people, but he was so habituated to humans he hung around the parking lots and buildings, often being petted and fed by people. It was only a matter of time before he would have been hit by a car or hurt someone, so the decision was made to move him away from easy contact with people.
In the fall of 2009 Bam Bam was moved to the Game and Fish's research facility in Sybille Canyon near Wheatland. He spent the last 4 years in a large pasture with a few other Bighorns and some Bison. According to Terry Krueger manager of the Sybille facility, he was popular with the public driving by since he was often close to the road, albeit behind a tall fence.
Darrel Trembly, Sinks Canyon State Park Superintendent, said the park had an agreement with the Game and Fish that when Bam Bam died, the park would get him back so he could be mounted by a taxidermist and put on display in the park visitor center.
"We are planning a major renovation of the Visitor Center in a few years and hope to have Bam Bam as the centerpiece of our south slope habitat display," said Trembly. "Bam Bam was such a part of this canyon for so many years. People would come up and tell stories about him for years after he left," Trembly said. "We felt it only right he would come back to the canyon." Trembly went on to say the mount, along with the other taxidermy and displays in the center would help explain the natural history of the canyon.
Trembly said that the park is actively trying to raise funds for the visitor center renovation. "To do a full body mount of a big animal like a Bighorn costs thousands of dollars. We are hoping the community will help us raise funds to get the taxidermy Bam Bam needs to be a permanent part of the park. People who are interested in helping with the project are encouraged to call Darrel Trembly at the park at 332-6333.
Attached Photo of Bam Bam taken by Bill Briggs.