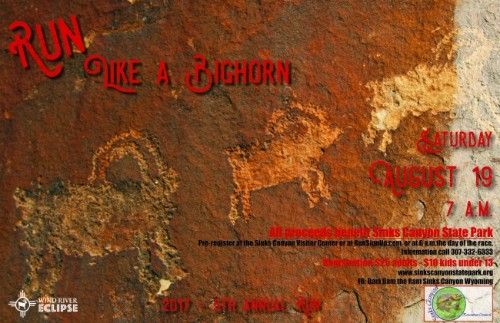 5th Annual "Run Like A Bighorn" Sinks Canyon Trail Run August 19, 2017
For the past 3 years hardy runners and walkers have gathered at Sawmill Campground in Sinks Canyon State Park to challenge themselves to "Run Like A Bighorn," and support the park.
2017 is no different as the park gears up for the latest bighorn challenge. An added attraction this year is the 2017 total eclipse happening the next day. A full slate of events, from nature hikes, caving tours and a bighorn sheep symposium are set for the weekend in honor of the once in a lifetime eclipse event.
The annual race is a fund-raiser for the state park Visitor Center to help fund new exhibits. The race was started in honor of Bam Bam The Ram, the famous Bighorn Sheep who was the last sheep in the canyon and known for "bamming" into cars. Bam Bam is now on exhibit at the Park Visitor Center as part of the South Facing Slope exhibit.
This year's run is 6 miles, all on trails in the canyon. "In the past years the fastest runners have come in at a little over an hour, which is amazing given the tough terrain," said Park Superintendent Darrel Trembly. "But people don't have to run – we encourage walkers and hikers as well!" Trembly said everyone has a great time whether walking or hiking, and it all benefits the park.
An added attraction this year will be a Bighorn Sheep Symposium held by the Bighorn Sheep Restoration Group in the afternoon at ****. The symposium will have speakers about bighorn sheep history, ecology and habitat.
Cost for the run is $20 for adults and $10 for kids, with all proceeds going to the park.
All participants receive a race T-shirt, water bottle and other goodies. Food and drinks are available at the end of the race.
To sign up in advance stop in at the Visitor Center, or call the park at 307-332-6333. Runners can sign up the morning of the run starting at 6 a.m. at the Sawmill picnic shelter.
For more information on the race or Sinks Canyon State Park call 307-332-6333 visit us on FB at Bam Bam the Ram, Sinks Canyon, Wyoming or on the web at www.sinkscanyonstatepark.org
Click here to download a poster for the event.